FEATURED COLLECTION
Majestic Milano Fountain Pens
Beautifully crafted in ebonite and acrylic.
The thick ebonite walls provide the hand with a warm wood like feeling with a sense of elegance, while the acrylic colors evoke a sense of luxury and sophistication.
Shop Now
Osprey Calligraphy Penholders
Straight Penholders
With eye-catching colors, the straight penholders come with a stainless-steel rust proof nib insert.
Shop Now
Oblique Penholders
Made in ebonite, the Osprey Oblique penholders come included with a stainless-steel flange.
Shop Now
2-in-1 Penholder
The 2-in-1 penholder  is multifunctional, and can be used as a straight penholder or as an oblique holder.
Shop Now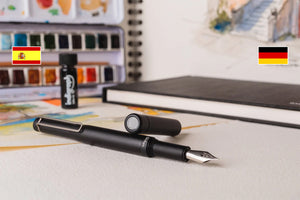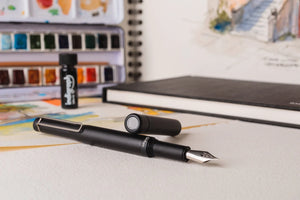 INDIGRAPH (INDIA INK) FOUNTAIN PENS
Finally, A fountain pen that can use India Inks and not get clogged! AMAZING!! Create waterproof documents , drawings, illustrations with this pen.
BEST SELLER
Scholar Zebra G Fountain Pen
★★★★★

WOW!

Osprey's Milano in Nikko ebonite OKA-RED is just beautiful - wow!. The ebonite is…well, stunning. High gloss and rich color. The pen is lightweight and has a great shape. I was a little nervous about the EEF nib so I ordered an EF and F as well.

Randall Green
★★★★★

LOVE THIS PEN.

I bought the Scholar, Duofold-orange. The pen thouroughly lived up to my expectations upon receiving it. Very nice finish, on par with expensive brands.

Ivar
★★★★★

REALLY EXCELLENT PEN

I received my Serendip Emerald Milano (with a gold colored clip and a chrome #5.5 extra extra fine Flex nib) very quickly. Fast shipping. It is a beautiful pen, even more beautiful than the photo on the web site shows. Very solid quality

Stephen Heller
★★★★★

WONDERFUL, AFFORDABLE PEN WITH GREAT NIB SELECTION!

I have a number of fountain pens, most in the entry - mid level ($20-150 range) .I also use dip pens for art and occasional dabbling with calligraphic elements for art. When I saw the Milano with it's Zebra G nib option, I had to give it a try! Glad I did! Got the multi-nib package, with a Zebra G and a steel EF. Both are WONDERFUL.

Eric Heupel
★★★★★

LOVE THIS FLEXY NIB!

I am a huge fan of flex nibs and am happy to use this one in my Osprey pens when I write with it! Smooth and goes to a wide variety of lines! Thank you Osprey!

Sandra A.